The three captains, Dan Harper (the real captain), Ralph Rodriguez, and Bill Wraith, go on another great sailing expedition. This time we had the privilege of once again being aboard Corban, Dan's exquisitely outfitted sailing vessel, to explore the island of Mallorca. Ralph and I both really enjoyed immersing ourselves in Spanish culture, language, and cuisine. It was great to be in a European setting and able to speak the language.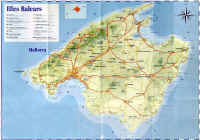 We visited a number of places:
Many thanks to Captain Dan Harper for another extraordinary cruising sailing experience. Ralph and I often marvel at our good fortune to share these unique adventures.