Graciosa evokes the best memories of the trip for me. It is a small, lushly cultivated island. We found our friend Joao Linares, a taxi driver who took it upon himself to make sure we saw some of the most beautiful sights on the island and also took us to his favorite restaurant for some extraordinary food and folk music. It is especially uplifting to discover friendly people who will extend themselves to help you appreciate their culture. Graciosa provided one of the best examples I have experienced.
Joao Linares met us in the afternoon for a taxi ride to dinner. We had already taken a ride with him to "Fuma do Enxofre", a sulfur cavern 100M deep with a 80M vault and an underground lake. He wouldn't come with us into the volcano for a reason we couldn't determine at first. After some difficult attempts using Spanish and English vs. his Portuguese, we realized a major earthquake had struck Faial, our point of departure, very early the same morning. I had been awakened by the boat rocking early in the morning, possibly a result of the quake. The earthquake was very serious in Faial, and was reported widely on the national news in the US, so much so that Julia, my secretary at Nomura, where I worked at the time, called the Coast Guard to ask them about our well-being. I suppose everyone was wondering why we hadn't called, but we knew nothing of the earthquake until we deciphered the reasons for Joao's reluctance to go down into the sulphur cavern.
Joao was enthusiastic to take us to the mountains above Santa Cruz to the Chapel of Monte da Ajuda. The views from the chapel high up on the mountain were spectacular, but the most interesting part of this tour was when Joao brought us inside the chapel to meet the ladies who were on duty to care for the chapel. They showed us the interior artwork and seemed to enjoy the arrival of four "young men" to appreciate their chapel.
The view from the chapel of Monte da Ajuda with our friendly guide, Joao Linares.
Ralph, Dan, Steve, and I crowded back into his cab and spent several minutes laboring to convey to him in our Spanish and English vs. his Portuguese our interest in finding his favorite place for dinner. At first he was reluctant, I think because he wasn't sure we would enjoy the local cooking style. After some coaxing, he took us to Luz where we walked through a laberynth of hallways out onto an upper terrace with tables under umbrellas. Several guys who gave the impression of being from Graciosa were sitting at one of the tables. They watched very carefully as we sat down. Joao went to speak with these fellows who turned out to be lifelong friends of Joao's. We invited Joao to join us for dinner, which he at first politely declined, but relented after our continued insistence. We were rewarded with the careful oversight of our dinner choices by not only Joao, but all of his friends. A lively debate on their part resulted in the arrival of a wonderful dish of roast baby goat, "cabrito", which was delicious with some equally carefully debated and chosen red wine from Graciosa. We offered wine to all, as we enjoyed the cabrito. After cabrito came some barbecued pork loin that was prepared in a manner traditional to the island. They were extremely pleased to see us enjoy their special food and wine.
As the dinner wound down, we noticed them concentrating at their table on what appeared to be plates of rock and seaweed. We asked Joao what this was about. He explained that these were barnacles. These barnacles were very difficult to remove from their shells. Joao's friends fed us the barnacles to see if we liked them. First they picked them out carefully with some pins that they said came from railroad tracks in the area. Then after eating the meat, you downed the brine remaining in the hole vacated by the barnacle, making sure to cover the other holes so as not to spill brine from the other holes on your shirt. It was an involved and delicate process. They were astounded and delighted when we ordered our own dish of barnacles. Once ours arrived an animated effort to teach us the proper technique continued for half an hour as we struggled to properly consume our barnacles. One of the fellows on the side had a technique using a pen knife to extract them. He seemed to feel the pins from the railroad were highly inferior to a simple pen knife as a tool for barnacle extraction and spent some time showing me his approach. I found it very effective with my own small Swiss Army knife, and they were all interested to see me successfully work several barnacles out of the shell. At one point, however, after feeling I had mastered the technique, I forgot to plug the other four holes of a five hole chunk of barnacles. As I downed the juice from one of the holes, the other four holes drained onto my shirt and created a comedic scene for Joao's and my friends to laugh at.
Barnacles.
Finally we turned to drinking a glass of cognac after dinner. We knew it would be a good idea to offer something to Joao and his friends in thanks for all they had done to ensure our enjoyment of this dinner. Steve and Ralph had a conversation with the bar tender inside and came out with glasses of a powerful local grappa-like drink for Joao's friends. They looked a bit concerned at first. Maybe this was one too many. But, they went ahead with it and we drank to one another's health as we finished off the last of our respective meals.
At this point, they (and we) were in a fine mood, and one of them started to sing a melody that reminded me a little bit of a Mexican "corrida". The others began to join in at certain points with an "um-pa-pa", literally. Ralph said he thought this might be "fado", which he explained would involve two of them squaring off and challenging one another with improvised mockery of the other to the rhythm and melody that had been started. This is exactly what followed. Joao and one of the others began to sing at one another, and at the end of each verse heavy laughter from the others indicated some rememberance a long-known infamous story or other criticism of the opponent. I wish we understood the language so we could follow the improvised lyrics, but even though we were in the dark on the exact meaning of the verses, the overall effect could be understood through the music and the reaction of the singers.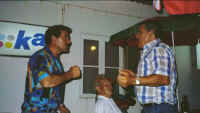 The music.
Our hikes in Graciosa were marked by agrarian scenes of cows and horses and lush, terraced fields in the hills and mountains. We spent hours walking along the shore roads stopping to take a photo or go for a swim or just enjoy the fresh air and the outdoors.