We started our tour in Horta, the port city of Faial where yachts stop on the voyage to the Mediterranian Sea for the summer season. Corban had recently arrived from Bermuda after a passage of more than two weeks, crewed by Captain Dan Harper, my brother Steve, and another friend of Dan's. Beverley used her artistic talents to paint a proper sign memorializing Corban on the seawalls of Horta along with thousands of other vessels. We visited Pete's to share some beers on the opening day, as well.
Painting Corban on the seawall in Horta.
Before setting off in Corban, we spent a day exploring the island of Faial. We stopped to climb on the volcanic moonscape of Capelinhos Volcano, visited black sand beaches, and spent hours attempting to reach the bottom of the crater inside the Caldeira without success. It seemed so close, but as we dropped, more of the side of the crater would reveal itself. We finally realized we wouldn't make it unless we were prepared to climb in the dark, a classic long march for this group of explorers.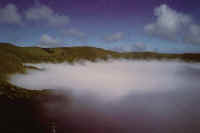 The Caldeira.
The Capelinhos Volcano.
Hydrangeas and the crew.